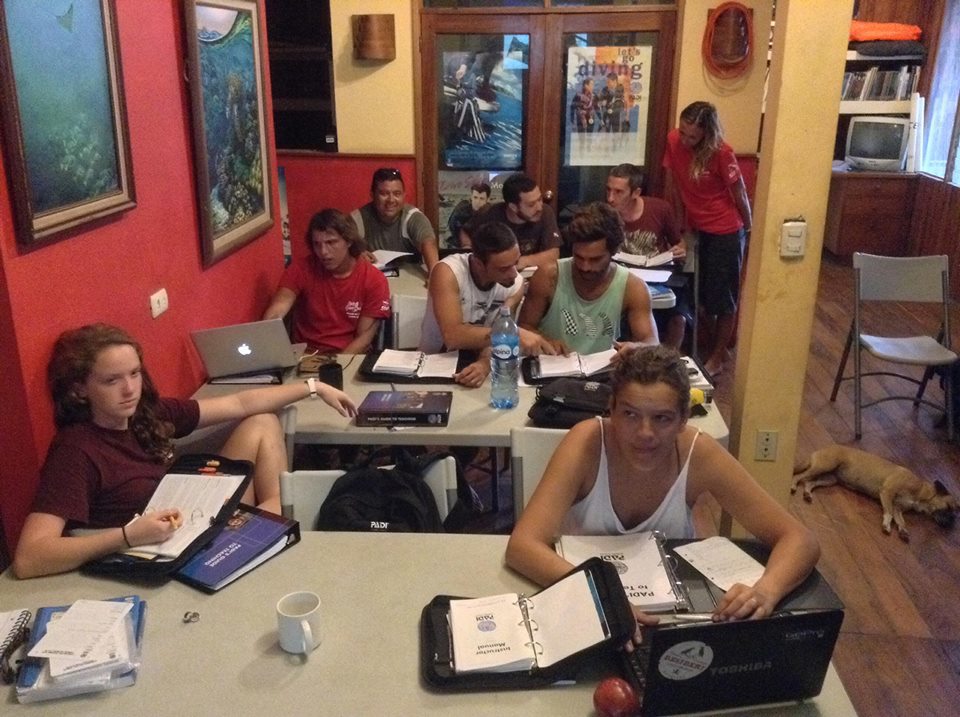 Today was a sunny busy morning at Rich Coast Diving. By 7am, all the staff was already full on working. That would be a good scenario for the beginning of the high season here in El Coco, but actually those are the firsts minutes of the Instructor development training. Instead of checking bags and loading tanks, the morning started for us with a check-list through all the candidate's paperwork following by the introduction of all the participants.
The next 12 days are going to be fun and lot of hard working. And I'll be sharing my experiences as a Instructor Trainee with you guys
Not only learning how to teach, we will definitely learn a lot about global culture and languages: the group consists of two French, two Costa Ricans, one American, one Portuguese, one Chilean and one Brazilian. And we're lucky, not only on counting with 2 course directors to teach us, but also to have support in all those languages during the classes. I was really glad about being able to get some details in my native language, makes the whole training much easier.
After a brief introduction from all of the participants, we started the studies. The day was full of information about the PADI standards and the role of a Dive Instructor. We started focusing on understanding all the IDC Crewpack materials and how to use best all of the books. Then, for a break, we had some good time practicing some knots already for the next step.
The best you can get from being in a group so vastly different is about sharing experiences with each other. And that includes all of the staff. By some point even the boat captain was teaching us his own (and really fast) technique for tying the knots!
The afternoon was busy as well while we were finishing the presentations about the PADI Instructor Manual and the Guide for Teaching. For tomorrow we are going to start working on the basics of our presentations.
As you can see, lots of hard work around here. But the reward is worth all the efforts. I'm sure that the end of the training I'm not only gonna conquer my PADI Instructor license, but also lots of friends and different dive travels and adventures still to come